Bell dredging pumps have been used for an amazing array of projects this year highlighting their versatility.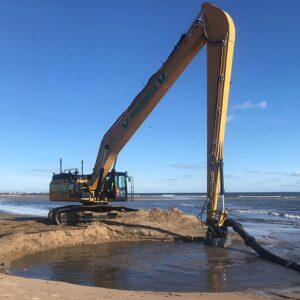 Bell Dredging Pumps, part of Dieseko Group, began hiring their dredge pumps in 2018 and one of the first countries to become active, via Watson & Hillhouse, was the UK. It turned out to be their biggest rental market in 2018.
As exclusive dealers for Bell equipment in the UK, we have supplied dredge pumps for a variety of uses:
– Ensuring the absence of explosive devices prior to piling.
– Precision dredging to remove silt from the Thames Flood Barrier sills, without damage, to ensure the continued safe operation of the gates.
– Transfer of animal waste for processing.
– Precision dredging to remove sediment from a damaged cofferdam.
– Maintenance dredge of a harbour using a pump attached to an amphibious excavator. At low tide, the pump was swapped to a bucket so that work could continue throughout the tidal cycle.
– A precision dredge in the Irish Sea to remove silt from a previously made trench (using other methods) but which then silted up due to stormy weather.
It's been a very busy and exciting year for Bell equipment in the UK and we forecast another busy year in 2019!