EARLCOATE CONSTRUCTION ADD MOVAX SIDE GRIP TO FLEET
Earlcoate Construction & Plant Hire Ltd of Fordingbridge, Hampshire, who are civil engineering and coastal defence contractors, have recently invested in a new Movax SG-75V side grip vibrator which we fitted to their Doosan DX380 excavator along with the MCS Lite Movax Control System.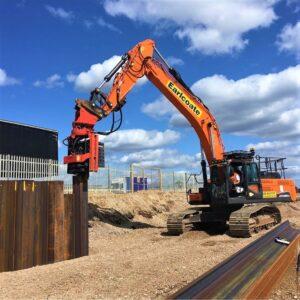 It was specified with heavy duty 'modular' arms and sheet pile clamps which gives flexibility in terms of being able to fit tube or timber clamps in the future if required.  Operator training was also given by one of our highly experienced Movax operatives and was carried out at their base in the New Forest.  The SG-75V is now part of their impressive equipment fleet and will give Earlcoate the edge on sites where there may be environmental constraints, as the high frequency pile driver has a variable eccentric moment keeping disturbance to the surrounding area to a minimum. This equipment has gone straight to work on one of their coastal defence contracts at Shoreham Port in Sussex.
Visit the Earlcoate website here.