JUST IN TIME FOR CHRISTMAS!
Our brand new Woltman 40 PR Piling Rig has arrived - just in time for Christmas!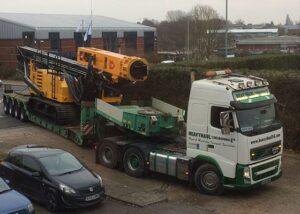 We have already had a lot of interest, for both sales and hire, in the rig which is designed specifically for piling and foundation works with safety and stability in mind.
Woltman rigs have been engineered with performance a priority. This has resulted in adaptable, modern equipment capable of installing piles in challenging ground conditions.  They are lighter than other rigs on the market which means it's possible to have a shallower piling mat to keep costs down.
Woltman have had great success in The Netherlands over the last 25 years and we are hoping to replicate that success in the UK and Ireland.
The 40 PR will be available for hire in the New Year, please contact Neil Davey for enquiries or Phil Bell for sales.