MOVAX MPL-300 – PA-50 PRE-AUGER
Our Movax MPL-300 fitted with a PA-50 pre-auger has recently been on site drilling with a 400mm auger to a maximum depth of 12 metres.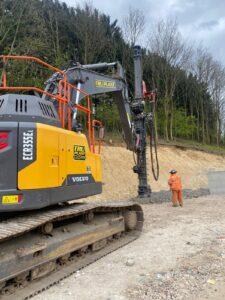 The MPL-300, seen here mounted onto a Tru7 Group Volvo EC355EL in 6m effective bore depth set up, carried out a line of pre-augering that according to the customer, was 40% faster than an ordinary earth drill!
When operated on a 35ton excavator, the MPL-300 can be mounted directly on to the stick via the quick hitch making it very fast to switch between various Movax attachments e.g. side-grip vibrator or impact hammer. For example, on a sheet piling project with tough soil conditions, everything can be done with just one machine; pre-auger the pile line, handle, pitch and drive the sheet piles with the Movax side-grip vibrator and if necessary final drive using a Movax DH impact hammer. As a multi-tool leader, various Movax equipment can also be mounted and operated on the leader itself e.g. pre-auger drill, DH impact hammer for installing pre-cast concrete or steel piles, or bespoke vibrators for the installation of stone columns.