Plastic Piling
Looking for a compact piling hammer to drive in plastic piles? You've come to the right place.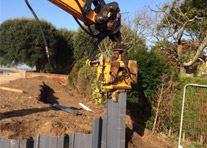 In particular, from the Watson & Hillhouse fleet, is the light weight excavator mounted vibratory hammer.  The high frequency of the hammer means there is minimal impact force applied to the pile – perfect for plastic sections.
Of course it will depend on the soil type and depth of installation but one of our hire advisors is able to advise on the best solution for you.
Muller
Müller vibratory hammers have a proven track record in civil engineering stretching back more than 50 years. Suitable for a wide range of applications their continuous development and reliability make them a great fleet addition.

Contact our hire team today to discuss your piling plant requirements, be it hire or sales, with our expert staff.

Contact us today for more information.
01473 748652
Email Team